The Dress
"ACT, LIKE WE HAVE JUST ENOUGH TIME.
LIVE, LIKE IT RUNS OUT TODAY"
Helen Storey MBE RDI
Using the power of fashion, science and wonder to communicate and act upon some of the world's most complex issues of our time.
Dress For Our Time is a project by Professor Helen Storey, an artist, designer and researcher at Centre for Sustainable Fashion a University of the Arts London research centre based at London College of Fashion.

Helen uses the power of fashion to communicate and act upon some of the world's most complex issues, notably climate change and the mass displacement of people.

The dress is created from a decommissioned UNHCR (United Nations High Commission for Refugees) refugee tent that once housed a displaced Syrian family at Za'atari Camp in Jordan, and was gifted to the project by UNHCR. In giving the tent a second life, it endows this public art installation with an unbreakable bond to humanity and represents the importance of nurturing and protecting all people and safeguarding generations to come.
It is a symbol of what it means to be human and the precarious nature of our existence.
The dress has digitally displayed scientific data, which showed us the impact of climate change on our physical world, broadened the dialogue around migration, highlighting the millions of displaced people and the paths they take in search of a better life.

To date the dress has been shown at UK venues and internationally, including Buckingham Place, St Pancras International train station, UN Geneva, Science Museum London, Glastonbury Music Festival, UN Peace Talks in London and Dubai International Humanitarian Aid & Development Conference. The tour continues.

Through fashion, science and wonder the project seeks to help change the way we think and act!
Read people's thoughts and reactions to Dress For Our Time.
TRUTH AND REALISATION
In 2012, Helen brought together collaborators and supporters including Holition, Unilever, Met Office, UNHCR UK and the Universities of Sheffield, Exeter and Kingston - all with very different backgrounds in science, business, education, technology, humanitarian work and fashion, to explore ways to engender a public debate about our most critical challenges.

The conversation began with climate change and the UNCOP21 Paris Climate Summit 2015, as the focus, and explored how we as a species are, or are not, responding to climate change and why. A date kept reoccurring during the discussion, a tipping point for us a species - 2020, and this date has changed everything for Helen.

The link between the refugee crisis and climate change is set to define how our species responds to this next phase of our evolution and the project, which started as a work of art to raise awareness and encourage debate, has now led to a 5 year path of front line practical action.
FIND YOUR ROLE
Through social media, we are creating a community which has come together to make sense of and act upon these complex issues of our time.
PLEASE JOIN US & SHARE USING #DRESS4OURTIME
GALLERY
Through the project's life we have captured, with key images, the path it has taken; from the arrival on the doorstep of the tent in a scrunched up DHL parcel, to the creation of the dress itself, it's development into a data project and all the venues the piece has since been shown in – from The Science Museum in London, to a snowy day at The United Nations in Geneva.

Finally leading back to where the tent came from – Za'atari.
Day 1 - the tent arrives, well inspected by customs - tents don't come backwards.
What can I make you into?
Helen and Mark working on the dress 2015
Ashton - "save my planet please"
Moving on through the night
Dawn on first day at St Pancras International
If you write your opinion on a human body, do you care more about what you say ? new evaluation experiment at St Pancras
The London UN Peace Talks
65.3 million people as pixels of light on the move
Dress at The Science Museum London
Dress at The Science Museum London
making sense of light and data - The Science Museum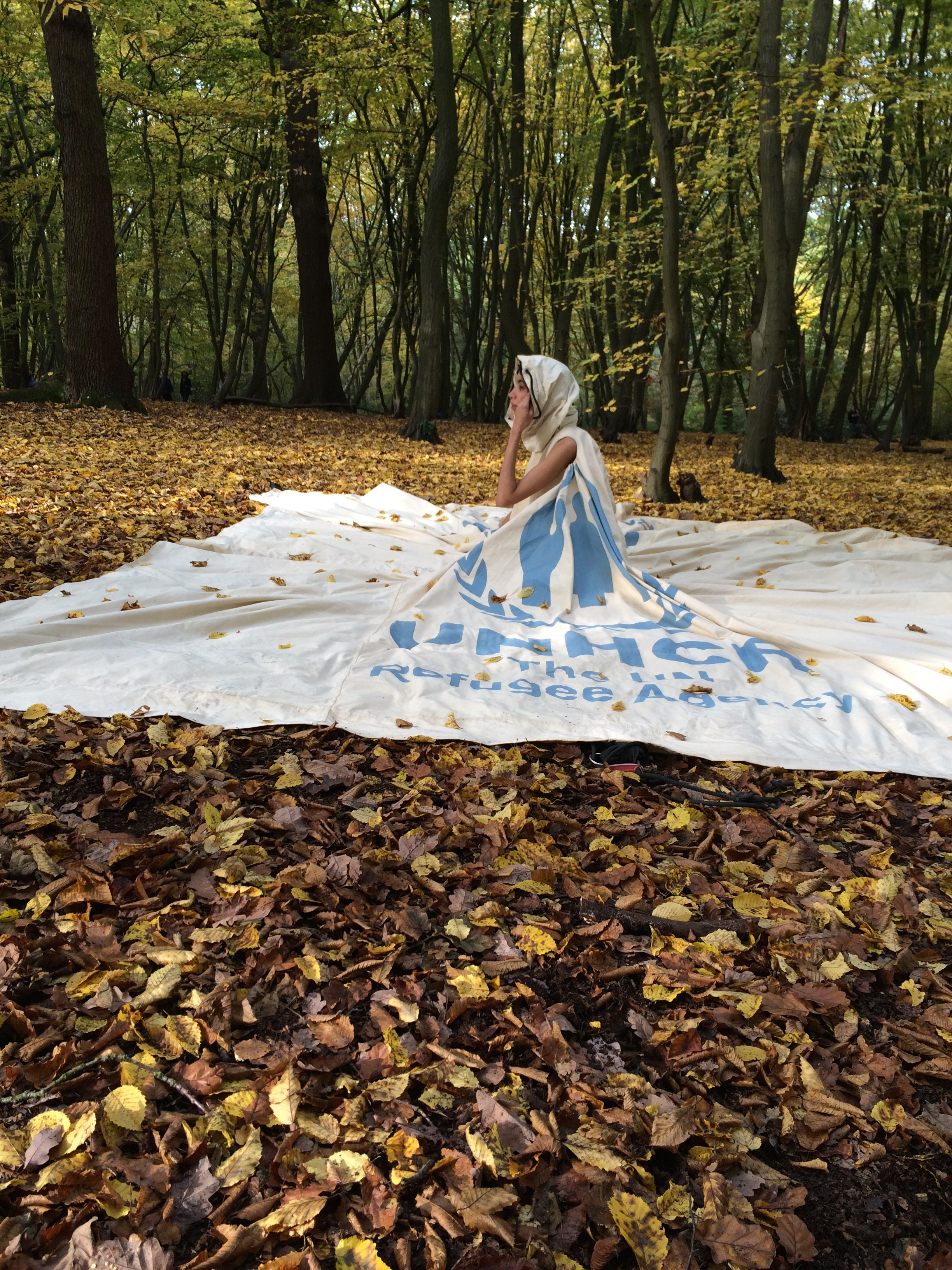 360 view the dress - Tate - St Pauls
Roika opening Glastonbury 2016 in the dress
Rokia Traore opening on Pyramid Stage at Glastonbury 2016. Image by kind permission of Getty Images
Dress For Our Time - On the steps of the UN Geneva
Through the snow to The UN Geneva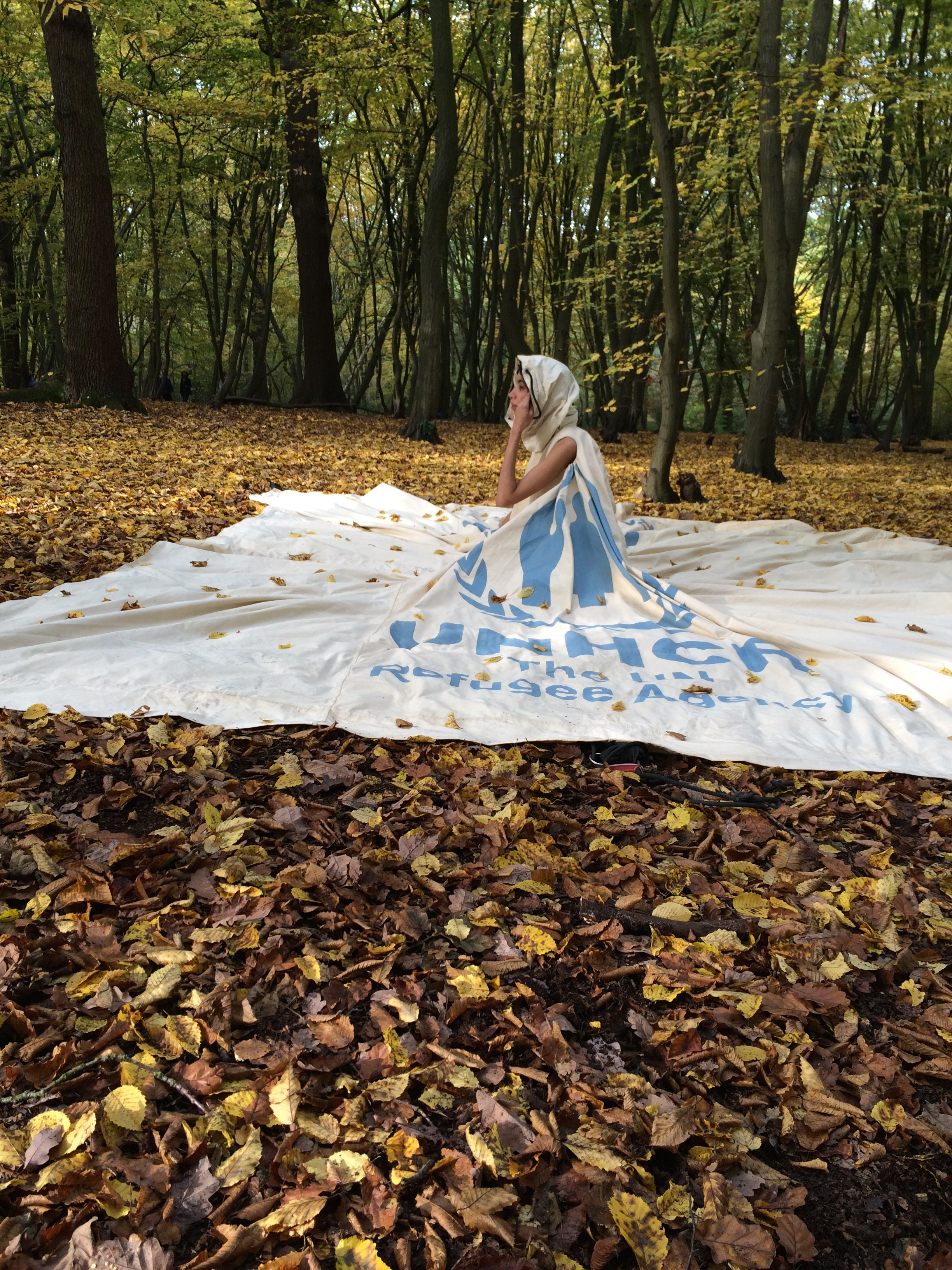 "WE ARE NOW FACED WITH THE FACT THAT TOMORROW IS TODAY. WE ARE CONFRONTED WITH THE FIERCE URGENCY OF NOW. IN THIS UNFOLDING CONUNDRUM OF LIFE AND HISTORY, THERE "IS" SUCH A THING AS BEING TOO LATE. THIS IS NO TIME FOR APATHY OR COMPLACENCY. THIS IS A TIME FOR VIGOROUS AND POSITIVE ACTION."
— MARTIN LUTHER KING JR.
IN PARTNERSHIP WITH:
Thank you to the many wonderful human beings who have made this project possible -
Paul Albert, Ezzidin Alwan, Shane Bailey, Trish Belford, David Betteridge, Kiran Birk, Orsola De Castro, Chiana Capacyachi, Noemie Cavaliion - Ram, Georgina Chatfield and RSA Academies, Johnathan Chippindale, Alex Chunie, Caroline Coates, Agatha Connolly, Loukia Constantinou, Paul Copsey, Frances Corner, Tom Cranstoun, Renee Cuoco, Jon Daughtry, Nik Daughtry, Josh De Souza Crook, Lida Driva, Anna Fitzpatrick, Joanne Frears, Russell Freeman, Nikos Georgopoulos, William Gordon, Ellie Greaves, Sharan Grewal, Keith Hallam, Corin Harper, Noah Henderson, Claudine Henry, Mathew Higgins, Rosie Higham – Stainton, Stuar Hill, Seth Honnor, Pierre Houdyer, Marion Hume, Susan Ibreck, Shinny Jain, Bel Jacobs, Gavin Jenkins, Dave Johnson, Rebecca Johnstone, Cheonga Kim, Darren Kirby, Rob Knifton, Tim Kurz, Steve Legget, Andrej Mahecic, Ben Martin, Denise Maynard, Paula Maynard, Fiona McAuliffe, Sandy Munns, Rebecca Munro, Jon Nichols, Zoe Norton, Louise Owen, Laura Padoan, Irini Papadimitriou, Michele Paradise, Deepa Patel, Benjamin Rajapandian, Robert Randall, Naomi Richmond-Swift, Glyn Roberts, Jeff Rosevear, Phil Sams, Michael Saunby, Hilda Sheppard, Imogen Slater, Jess Smulders Cohen, Fiona Spence, Wendy Spinks, Carol Allen Storey, Mark Tarbard, Erin Thompson, Burcu Turkay, Cindy van Rees, Judith Wichmann, Binu Wickramsinghe, Dilys Williams